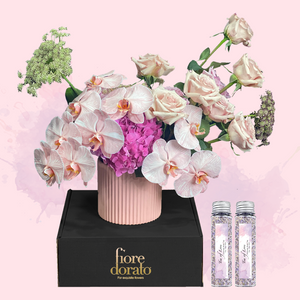 SWEETEST MOM
Description
Lend an exotic finish to any interior with our Coral Phalaenopsis Orchid. Boasting creamy yellow flower heads that cascade beautifully over any vase, for a stunning centerpiece.
Comes with a complimentary Tea of Love set.
*Limited to first 20 customer only*
Dimension
Approx. L40cm x H35cm 
Care Instruction 
All arrangement should be kept out of direct sunlight and at temperatures between 10 - 15 degree to preserve the life of the flowers. Check daily if floral foam is moist. Add water when it starts to dry out. 
Note: 
The image shown here represents for reference only. If a flower, foliage or vases pictured here is unavailable for any reason we will substitute this one of the same or higher monetary value and in a similars style and color or accordingly to seasonality and designer's preferences.